Strategy
Brand strategy
Communications strategy
Communications planning
Messaging
Knowledge management
LEARNING SOLUTIONS
E-learning tools
Participatory workshop facilitation
Storytelling training
Writing & editing
Video and Animation
Scriptwriting
Storyboarding
Field production
Video and sound editing
Motion graphics & animation
Design
Brand redesign and refresh
Data viz, digital and print collateral
Web design
508 and ADA compliance
How We Work
Want sustainable results? Stronger outreach and storytelling tools that actually convey impact? Now you're talking.
Over 25 years of nonprofit experience have shown us, repeatedly, that change comes through building capacity. And real transformation happens when that capacity is built where learning and exchange are encouraged.
Communications is integral to successful project management. It bolsters technical activities and naturally integrates with monitoring, evaluation and learning (MEL) processes. It helps tell the project "story," establishing communication channels, documenting progress and capturing not just theories of change, but the change itself. We work with our clients and partners throughout the project life cycle via strategy, strengthening and tool development.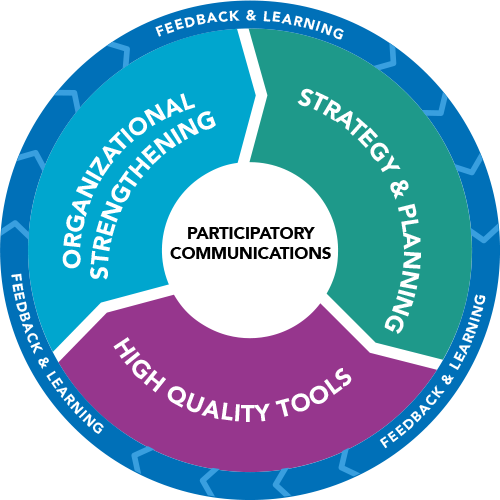 Organizational Strengthening
We identify opportunities for learning that combine theory with immediate practice. Our trainings are interactive and encourage the participation of diverse stakeholders. Wallflowers, we see you.
Strategy & Planning
An effective plan must be informed by reality, aligned with available resources and able to accommodate change along the way. We assess, articulate goals and identify the right plan to achieve them.
High Quality Tools
We are creative overachievers by nature. We employ technology, but the purpose and story drive every solution. Creative tools must be engaging, adaptable and accessible.