6 Strategies for More Readable, Creative Annual Reports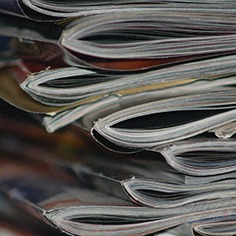 Are your reports gathering dust or being used as coasters? Here's a list of great tips and examples to keep your annual reports exciting year after year.
1 – Visuals, Visuals, Visuals
Big, graphically pleasing photos that take up a good portion of the page instantly catch a viewer's attention. People want to be told and shown your story.
Check out Charity Water's 2013 annual report for example. Each country where they work has a corresponding image page. They use colorful, conceptual, full-spread images for different sections and include smaller photos on most pages. 
2 – Infographics & Clear Statistics
Creating infographics of statistical information will help readers quickly understand key company and organization data without spending too much time interpreting numbers. If not using infographics or graphical displays, make sure your data is clear and easy to understand.
On page 8 of Heartland Alliance's 2014 annual report, you can easily see their financial data represented in simple large pie charts that match the rest of the color theme. 
3 – Mission, Goals, Messaging
Annual reports not only list financials and contributors, but also provide a chance to reiterate the organization's mission. By doing so concisely, and by breaking up points with visual accompaniment or examples, you can drive home your purpose and create a call to action like Livestrong's.
Livestrong's 2013 annual report is numbered by section and makes compelling use of pull quotes that become highlighted in yellow as you scroll down.
"You have cancer" appears at the start, followed later by the highlighted title,"2 Cancer Touches Everyone".
Another section is titled, "3 Your Fight is our Fight Now" followed with the highlighted quote, "Livestrong is here to help". Together these focused lines tell the story not only of a cancer patient seeking assistance, but the story of Livestrong and how they can help.
4 – Intuitive Navigation/Section Flow
Make sure the navigation and flow of your report is intuitive by creating section divides and color-coding. This ensures continuity from page to page and also helps the order of the report seem logical while visually pleasing.
The MacArthur Foundation's 2013 annual report has a very straightforward navigation bar, with scrollable, readable section layouts.
WPP's 2014 annual report consolidates all the information from their different sub-organizations into a menu of categories. A color denotes each category page. When your internet browser window is expanded larger, the left navigation becomes apparent and highlights the section you are currently reading as you move down the page. 
5 – Unconventional Report Size/Format
Standard printed reports can be mundane to flip through and cumbersome. Making your report an intriguing format will increase the likelihood your report will be passed on and will be refreshingly less "report-like".
Stand Children's Services 2014 annual report caps their report off with vertically long first and end pages. A wider poster-like format is used for the image-focused interior pages perfectly showcasing their colorful backgrounds and photos. 
6 – Make it Digitally Available
Allowing users to download the full .pdf file from your website, or having a completely digital version, can deter your annual report from ever being thrown out. A digital annual brochure also means you can take advantage of media components such as video, interaction and animation.
In Calgary Stampede's 2013 annual report, an interactive map and an animated timeline are very useful and engaging components, as well as their video links. It's a truly creative strategic approach to the traditional annual report that incorporates lots of quality content without overwhelming the audience.
MailChimp's 2013 annual report makes excellent use of parallax scrolling. Their entire report features pop-up interactive statistical data and changing colored background images.
Want a consultation for your annual report or publication? Drop us a line!