5 Signs Your Organization Needs a Communications Strategy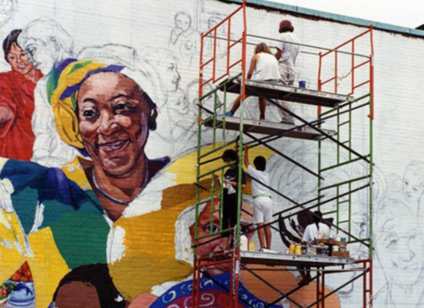 Just as in painting a mural, every organization needs a shared vision. An effective communications strategy is how that vision is articulated. Here are five easy indicators to check the effectiveness of your current communications strategy:
1) When asked "what does your organization/project do?" team members all provide a different response.

Can you answer this question confidently, in a manner that effectively communicates your work? What about your coworkers? Without a clearly developed mission statement and strategy for communications, team members may scramble to articulate the vision of your work—or worse, scramble your vision altogether!
2) Your outreach and marketing spend has diminishing returns.
Otherwise successful organizations plateau in their returns when they don't factor communications into their marketing and outreach plans. In order to feel confident about investing in an organization, donors and other potential partners need to be enticed by your content—and excited about how their money or time will be spent.
3) Team members with job titles that don't include the word "communications" feel comfortable saying "Communications is not my job."
In fact, everyone within an organization should be able to think about and contribute to communications. When team members from across the organization can clearly articulate what the organization does and think about what funders, partners and beneficiaries need to know, communications content is richer.
4) Stakeholders, partners and funders are pleasantly surprised to find out about the great, innovative work your organization is doing.

This might seem encouraging, but in fact, these audiences should already know about the great work you do! An effective communications strategy positions the highlights of your work at the forefront. Information about past accomplishments and innovations should be easy to find, and the messaging and impacts should be clear. A thoughtful, engaging portfolio and digital presence shows your capabilities and leads to better and more targeted prospects.
5) If a journalist calls, panic ensues.

If the media approaches you for comment on a specific project or issue, do you have an organization-wide strategy in place to respond? Do you worry that staff members' comments won't accurately portray your mission? Do team members freeze up in fear at the idea of speaking on behalf of their work?
If one or more of these signs resonates, your organization likely needs a communications strategy! Having a strategy in place enables you to have a clear, shared vision that can guide planning, and allows your entire team to implement with confidence and consistency in the long run. Ensemble provides free 30-minute consultations for organizations who want to strengthen their communications. Get in touch!