An Invite to Enter the World of 'Virtual Reality for Good'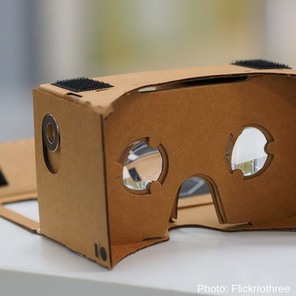 My eyes are still blurry with emotion from watching Clouds Over Sidra. I spent the last eight and a half minutes with Sidra, a young girl living in the Za'atari Syrian refugee camp in Jordan–I sat next to her at school, I played soccer with her and her friends, I ate dinner with her family. The refugee camp is vast–stretching miles and miles in every direction–and it's now a place that I know. With virtual reality (VR), I just experienced life in Za'atari as if I was there.
Over the last year and a half, we've heard how virtual reality films are charting new pathways for demonstrating need as well as impact for the world's most pressing challenges, resulting in viral viewership and highly effective giving campaigns. In December 2015, charity:water raised $2.4M at their annual gala, far surpassing their fundraising goal, after guests watched a VR film documenting a week in the life of a 13-year-old girl, Selam, and her family who were accessing clean water for the first time.[1] The Clinton Global Initiative's (CGI) 8-minute "Inside Impact: East Africa" VR film has given over one million people the opportunity to travel alongside President Bill Clinton and Chelsea Clinton to three of CGI's project sites in Tanzania and Kenya to see program results first-hand.[2] Clouds Over Sidra, first released at the 2015 World Economic Forum, raised over $3.8 billion for the Syrian refugee crisis.[3]
These are significant results for the pioneers in "VR for good." We're intrigued, to say the least. Our curiosity has prompted us to put together a two-part series to introduce virtual reality as a medium to you–this first post offers a step-by-step guide to sampling some of the existing "VR for good" films out there.
To experience it is to believe it — take a look for yourself. Here's how to experience VR at home:

STEP 1: Get a VR viewer — There are four basic options for viewing VR content today (see the breakdown here). The best and most cost effective option we've found is to buy a cardboard viewer (Amazon has a range of options for $15 or less). If you're a NYTimes subscriber, you may have been a lucky recipient of the Google Cardboard Viewer sometime last year. Note: cardboard viewers work along with your mobile phone, so you'll need one of those too! While you can watch VR on the web (known as 360 video format), the real VR experience is with your smartphone and VR viewer.
STEP 2: Download apps — You can do a Google or YouTube search for VR videos, but the videos are much higher quality when viewed via apps downloaded to your phone. We tried these ones: Within, RYOT, and NYTVR (all free!).
STEP 3: Select a film to watch — Once you open one of the apps, you scroll through the available videos, choose which one you want to view, and follow the prompts for how you want to view the video (with a cardboard viewer or not). Recommendation: use headphones when you watch VR to experience the surround sound. Here are the films we recommend:
Clouds of Sidra, United Nations (available on the Within app)
Waves of Grace, United Nations (available on the Within app)
Pencils of Promise (available on the RYOT app)
Ready for 100, The Sierra Club (available on the RYOT app)
STEP 4: Make space for VR — Once the film starts, make sure you're standing up and in a place where you can turn around comfortably. Sitting down will inhibit your viewing experience. Make sure to look left, right, up, down, in front and behind you to take in the full 360 degree angles. When watching VR, you choose the viewpoint and have the ability to see the entire room/environment that has been filmed. And if it hasn't been made abundantly clear, you'll likely be amazed–be prepared to feel a lot of emotions.
The second post in this series will follow soon–we've compiled questions and answers that warranted further exploration, such as "is virtual reality different from regular video?" and "what are the benefits of VR for nonprofits?" If there are questions that you're curious about, please let us know and we'll add them to our list!
We'll watch the VR space closely in 2017, and we look forward to trying our hand at this medium for storytelling. We're pretty darn excited about the potential.
Author: Meredith DuBoff
References
[1] AdWeek, May 2016
[2] AdvertisingAge, May 2016
[3] Fast Company, October 2015